DAYDREAM
Tedson Daydream represents our passionate, high-tech interpretation of Porsche 964 from today's perspective.
Looking back at the history of 911, since 1964, when the first 911 rolled out of the Porsche factory, all the way until 1989 and even 1994, the car featured the same "original" body. While bumpers changed, the body maintained the same for full 30 years and this original 911 body line, until this day, has been considered the ultimate sports car form.
Due to such beauty of these iconic cars, many restomod companies have done a great job of restoring these original 911s, namely 964s, usually reverting to the early era and the long hood design. Based on many existing backdates, we felt the need to do something completely different, dreaming to present the original 911 body in a new and modern physique, and this is how the project Daydream was born. While striving to deliver the same level of quality as world's best 911 restomod companies, we redesigned and reengineered the old 911, breathing in a new life into this iconic package, making Daydream estethically attractive, technologically superior and performance wise a true supercar.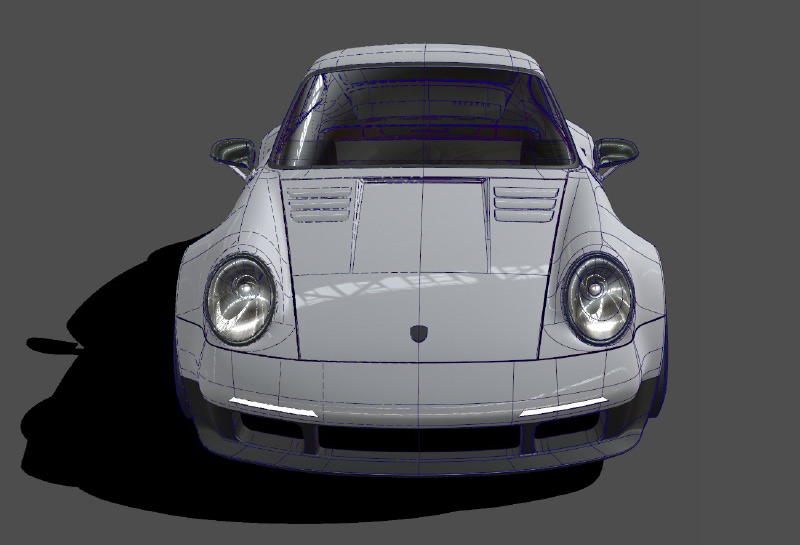 Latest technologies were used in modelling the Daydream. 1990 Porsche 964 was thoroughly scanned, and the original 3D model was the basis for Daydream development. Modelling the new, reimagined body took about two intensive and very rewarding years.
By altering bumpers, fenders, side skirts, ducktail and headlights' attack angle & area, 964's already impressive aerodynamics was further improved while attaining fresher, contemporary supercar appearance.
These improvements enhanced car's stance and made it more aggressive, while original DNA remained intact as a testament to brilliant Porsche 911 design.
HIGH POWER AND TORQUE
Original 3.6 engine is being completely hand rebuild to 4.0 L spec with many bespoke custom parts generating 390 HP and massive 315 ft/lbs of torque. In addition to this spectacular engine, the car features performance hybrid technology via KERS in a way of electric motor in place of factory flywheel, mounted between the engine and the transaxle, adding additional 150 HP and 150 ft/lbs on demand. The system features specialized battery located in the front of the car with extreme ability of fast charge and fast discharge using deacceleration and regenerative braking for energy storage.
THREE MODES OF DRIVING
Daydream can be driven in three different modes, adjusted on the steering wheel knob
Standard mode
the car only uses the engine, providing pure air-cooled driving experience with high power and high torque.
POWER 390 hp
TORQUE 315 ft lbs
ACCELARATION 0-100 km/h approx. 3.5 sec
Sport mode
the car uses the engine combined with 50% of electric motor power, serving as a low-end torque filler and power booster.
POWER 465 hp
TORQUE 390 ft lbs
ACCELARATION 0-100 km/h approx. 3.1 sec
Sport plus mode
the car uses the engine combined with full electric motor capacity for maximum power and supercar performance.
POWER 540 hp
TORQUE 465 ft lbs
ACCELARATION 0-100 km/h approx. 2.8 sec
The standard mode already provides outstanding performance, reaching 100 km/h in 3.5 seconds while two other modes are supercar modes for extreme performance with Sport plus mode reaching 0-100 km/h in less than 3 seconds. In addition to extreme performance, the car is very drivable, and the map settings are being tuned based on personal preferences of each owner.
Drivetrain options
We recommend 964 Carrera 4 manual to be used for Daydream restomod project. C4 system provides 4 x 4 action which helps distribute massive power and torque across two active differentials making the car more drivable and safer. Manual shift provides authentic air-cooled driving experience.
However, C2 cars can also be used but such cars should be driven with caution and by experienced Porsche drivers. Automatic transmission can also be ordered in C4 and C2 configuration if the client wishes so.
Materials
Tedson Daydream exterior body panels are made from carbon fiber with exception of the roof and the door. The car has excellent weight distribution and lower center of gravity then the original car. Also, it is 150 kg lighter than the original 964 Carrera 4 with total weight slightly under 1.300 kg.
Interior of the car is made from the finest Italian leather and carbon fiber or aluminum inserts depending on the chosen design package variant. All lighting is made from lightweight polycarbonate.
Safety
Daydream keeps complete metal monocoque intact including the roof for maximum strength and driver protection. Doors also remain original minimizing the effects of potential side impact.
Airbags, power steering and brakes are standard.
Key strategic partners
In a Pagani-like fashion, Daydream's assembly line has stretched across the globe to gather the best possible partners with the goal to deliver the best possible car.Several hi-tech partners from US and EU are part of this exclusive project and more information on their identity and their technologies will be available in the upcoming global press releases.
DESIGN PACKAGE VARIANTS
Daydream is offered in two different design package variants: Super Sport and Sport Classic. The first features modern styling with exposed carbon fiber elements, contemporary wheels, and modern leather interior with carbon fiber elements. The second features classic retro design elements with fully painted body (no exposed carbon), racing stripes, side lettering, Fuchs design wheels and "heritage" interior featuring leather and houndstooth pepita inserts.
SUPER SPORT
SUPER SPORT
Exterior featuring exposed carbon fiber elements
Choice of modern design 18" and 19" wheels
Modern leather interior with exposed carbon fiber elements
SPORT CLASSIC
SPORT CLASSIC
Fully painted exterior (no exposed carbon fiber) with racing stripes and side lettering
Choice of 17" and 18" Fuchs styled wheels
Heritage interior featuring leather and houndstooth textile inserts
Daydream's progressive design enhances 964's appearance, turning it into contemporary supercar in an original 911 body which by many features the perfect sports car dimensions. Aggressive front nose, lowered and extended front valance, functional air intakes, aerodynamic side skirts, functional rear diffusers and specially designed wing/ducktail further improve 964's already impressive aerodynamics by lowering drag coefficient and the lift.
In addition to outstanding power and drivetrain, this exclusive build features custom set-up, bespoke coilover suspension, best available Brembo brake package and proprietary Tedson LED headlights and taillights. Each car is delivered with Porsche classic navigation, custom indoor car cover and luggage, featuring owners full name or initials, based on owner's preference.
Each commission allows certain levels of customization, PTS colors, choice of leather, wheels and many other custom elements related to client's desires and driving preferences.
At this time, combustion/hybrid commissions are available while electric conversion is under development and will be available in the winter of 2021.
RESTORATION SPECIFICATION SHEET
For Daydream development, road legal 1989-1994 Porsche 911 (964) Carrera 4 or Carrera 2 Coupe is required. Through this restoration process, the Vehicle Identification Number (VIN), chassis and odometer reading remain unchanged and servicing, registering and operating procedures also remain the same.
All the cars are fully restored by hand in a so called nut-to-bolt process and are delivered to their commissioners in a new condition.
Donor car is completely disassembled and car's metal monocoque is media-blasted to bare metal.
Necessary body corrections and strengthening by welding are performed.
Rust prevention coating is applied as the final preparation step.
NOTE
Most 964 restomods involving backdates usually require chassis fabrication and cutting in order to prepare the framework for long hood installation. This is not the case with our restomod and donor chassis remains unchanged, only strengthened by seam welding to securely withstand additional power and torque requirements.
Widened chassis
Fully integrated roll cage is offered as an option
Bespoke Clubsport coilover suspension
Lightweight bespoke RS uprights
Upgraded bushings and revised geometry
Front and rear strut brace
Lower and upper stabilizer bar
Except the metal monocoque which remains unchanged, all other parts except the door are made from high-quality carbon fiber, including:

Front bumper with front valance
Front hood
Rear bumper with rear diffuser
Front fenders
Rear Quarter Panels
Side Skirts
Rear hood with duck tail

DAYDREAM dimensions:

Length – 4202 mm (165.43 in)

Height – 1265 mm (49.80 in)

Width – 1839 mm (72.40 in)
Original 3.6L engine is being increased to 4.0L capacity and many custom parts are installed/exchanged including bespoke crankshaft, pistons, cylinders, connecting rods, cams, cylinder heads, oil pump, throttle bodies and intake system, generating 390 HP and massive 315 ft/lbs of torque.
Motec ECU is installed.
Tunning of the engine depends on the intended use and client's driving characteristics.
Getrag G50 5 Speed with Custom Gear Ratios (6 Speed close ratio is optional).
110 kW Electric motor is installed between the engine and the transaxle instead of factory flywheel.
Uprated anti roll bars (front & rear)
Carrera 4 features AWD with active differentials
Carrera 2 is fitted with limited slip differential
New high-tech electrical system with MoTeC M1 series Engine Control Unit (ECU) operating in conjunction with dual MoTeC Power Distribution Modules (PDMs) and Bosch components replacing the entire fuse system.
1 kW battery in the front trunk, supplying the power to electric motor and all other electrical components.
NOTE
Due to presence of hybrid technology and its 1 kW battery, standard battery is deleted which translates into weight savings of 15 kg (approximately 37 lbs).
Servo assisted 'Big Red' Brembo calipers - 322mm drilled rotors
Brembo pads and braided brake lines
Upgraded brake booster
SUPER SPORT WHEELS – choice of contemporary designs, custom developed specifically for Daydream application.
SPORT CLASSIC WHEELS – Fuchs Design 5 Spoke wheels offered in three different finishes:

RSR matte
Chrome
Partially or fully painted in PTS color

Titanium Wheel Studs
Wheel sizes: 18 x 9" front | 18 x 12" rear.
Additionally available 17" wheels in Sport Classic option for more classic look and 19" wheels in Super Sport option for more extreme look.
Tire sizes: 245/35/18 front | 315/30/18 rear - Pirelli P Zero Rosso
Newly developed lightweight polycarbonate headlight lenses
Upgraded LED rear taillights
LED front turn signals
Choice of contemporary Porsche 911 sports seats or carbon fiber backed bucket seats, trimmed in finest Italian leather or Alcantara (with addition of pepita inserts in Sport Classic option)
Specially developed contemporary Porsche 911 steering wheel with driving mode select function
Redesigned dashboard and instruments
Porsche classic stereo and navigation multimedia system (bluetooth, wifi, USB)
Slotted pedals & foot rest made from forged aluminum
New generation air conditioning unit
Choice of touring (full carpet) or "naked" race interior
Due to presence of hybrid technology and its 1 kW battery, standard battery is deleted which translates to weight savings of 15 kg (approximately 37 lbs)